Spring into Summer Fair op de Internationale School van Amsterdam
Nieuws
->
Informatief
Bron: ISA
01-05-2013
De Internationale School van Amsterdam(ISA) is een unieke school in Amstelveen. De school heeft ruim 1000 leerlingen van meer dan 50 verschillende nationaliteiten. Als onderdeel van het onderwijsprogramma, staat fondsenwerving voor goede doelen hoog in het vaandel. Dit is om kinderen al jong het besef bij te brengen, dat wij onze welvaart moeten delen met mensen die het moeilijker hebben in deze wereld.

In dit kader organiseren we op zondag 26 mei 2013 Spring into Summer Fair. Een prima manier om geld bijeen te brengen voor de goede doelen die de PTA en ISA dit jaar hebben gekozen. Spring Fair wordt al jaren georganiseerd en is een groot succes. Naast ouders en leerlingen komen ook veel buurtbewoners, familieleden van studenten en andere geïnteresseerden.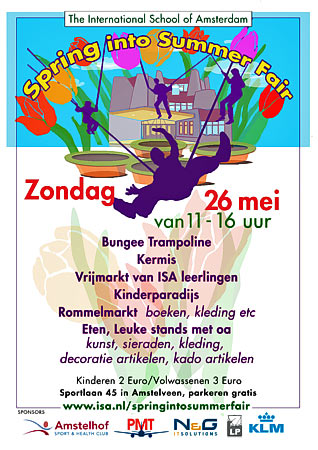 (Bron ISA - 2013)



De flyer van Spring into Summer Fair 2013
Tijdens Spring into Summer Fair worden vele evenementen georganiseerd met als doel geld in te zamelen. Zo is er een grote (tweedehands) rommelmarkt, waar jaarlijks vele bezoekers, ook van buiten de ISA, op af komen. Daarnaast is een beurs, waar exposanten diverse artikelen te koop aanbieden, waaronder decoratie, kleding, speelgoed, kunst etc.
Nieuw is de creatieve vrijmarkt, waar ISA studenten hun eigen producten en diensten aanbieden. Dit jaar hebben we voor het eerst een spectaculaire 4 persoons Bungee Trampoline op de speelplaats buiten, als onderdeel van een vrolijke Kinderkermis met diverse activiteiten, waaronder een zweefmolen, eendjes vissen, goal schieten etc. Daarnaast hebben we nog een Kinder Paradijs in de gymzaal met Bumper Ballen, Disco Springkussen en de 2 populaire springkussens Happende Krokodil en Octopus Glijbaan.
Vele ouders van de ISA werken er hard aan om van Spring into Summer Fair een geslaagd en aantrekkelijk evenement te maken. Ook veel studenten werken mee tijdens de opbouw en het evenement zelf, als hulp in de organisatie of om voor diverse doelen geld te verdienen. Een dag je uit voor het hele gezin. Groot en klein kunnen hun hart ophalen tijdens Spring into Summer Fair op 26 mei 2013 van 11 tot 16 uur. Adres: Internationale School van Amsterdam Sportlaan 45 in Amstelveen. Entree: Volwassenen 3 Euro/Kinderen 2 Euro. Parkeren gratis.
Meer informatie?
www.isa.nl/springintosummerfair
Spring into Summer Fair at the International School of Amsterdam

The International School of Amsterdam (ISA) is a unique school in Amstelveen which attracts mostly expat families. We have over 50 nationalities represented and around 1000 students.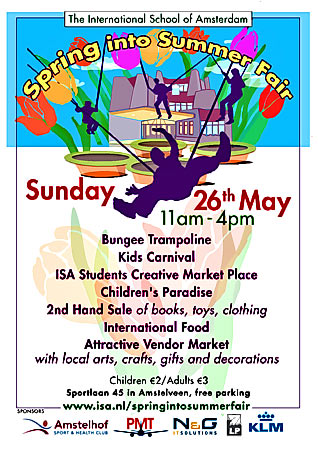 (Bron ISA - 2013)



The flyer of the Spring into Summer Fair 2013
As part of our curriculum and school mission we teach children to be charitable and raise money for various charitable groups around the world. We want children to realize that sharing their talents and using their initiative for charity purposes is a valuable trait.
This year our major charity fundraiser is "Spring into Summer Fair" , to be held on Sunday 26 May from 11am to 4pm. The money raised at this event will be donated to the charities ISA and the PTA decided to sponsor.
Spring Fair has been successfully organized for many years for all our students, teachers, parents, the local community and other interested people. During Spring into Summer Fair many events will be organized, aiming to raise money. As usual we offer the 2nd Hand Sale, which always attracts a lot of visitors, also from outside the ISA Community. We also have a vendor market, where vendors sell goods ranging from clothing, toys, accessories to decoration and art.
New this year is the Creative Market Place where ISA students will sell their products and services. As an extra feature of Spring into Summer Fair we've hired a 4 person Bungee Trampoline on the outside playground, as part of a Kids Carnival with various attractions including a Giant Stride, Goal, Catch the Duck etc.. Inside we'll have a Kids Paradise with Bumper Balls, Disco Bouncy, Happy Snappy and Octopus Slide. The kids will have fun, while their parents peruse the various vendor and food stalls.
Lots of ISA parents work hard to make Spring into Summer Fair a fun and successful event. Many students participate during build up, the organization during the event and organize various attractions to raise money. Spring into Summer Fair's success largely depends on the visitors who come to our event. Maybe you can play a role in realizing this success? The perfect day out for the whole family. Young and old will have a great day at Spring into Summer Fair on 26 May from 11am to 4pm.
Address:
International School of Amsterdam Sportlaan 45, 1180 AX Amstelveen. Entrance: 3 Euro Adults/2 Euro Kids. Parking free. More information?
www.isa.nl/springintosummerfair
Amstelveenweb.com is niet verantwoordelijk voor de inhoud van de nieuwsberichten.