Focus on Families ook succes in Woking
Nieuws
->
Informatief
Bron: SICA / Woking News & Mail
18-08-2006
Focus on Families ook succes in Woking
Nadat de fototentoonstelling 'Focus on Families' tot en met 24 juni 2006 in de Amstelveense bibliotheken te zien is geweest, is deze verhuisd naar Woking, onze partnerstad in Engeland.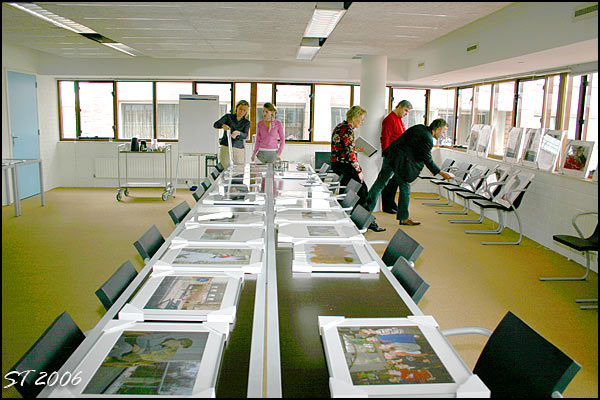 (Amstelveenweb.com collectie - 2006)



De jury van SICA aan het werk in de bibliotheek in april 2006
Burgemeester John Kingsbury heeft op 17 juli de officiële opening verricht in de bibliotheek van Woking. Daarna konden de burgers van Woking van de fototentoonstelling genieten. Ook hier was men erg enthousiast over de hoge kwaliteit van de tentoongestelde foto's.
Vanaf maandag 14 augustus is de tentoonstelling een maand te zien in Óbuda, Hongarije.
Jim snaps up twin town win
Woking (UK), 17 augustus 2006
JIM Cottrill, winner of Woking Town Twinning Association's photo competition, was presented with a new digital camera on Friday by Mayor of Woking and president of the association, Cllr John Kingsbury.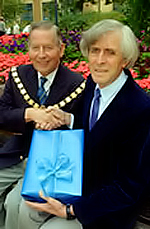 (Woking News collectie - 2006)



Jim Cottrill, de winnaar van de foto competitie met de burgemeester van Woking, mr John Kingsbury
In March, photographers from Amstelveen in the Netherlands and Óbuda-Békásmegyer in Hungary also entered their photographs into the competition.
There were three main categories — Older People, In and Around the House and Family Dreams. A keen photographer, Jim submitted a number of photos. His winning entry featured in the Family Dreams category.
Since taking the photos, Jim has become visually impaired and was unable to accept the main prize of a visit to Amstelveen. He continues to take pictures with help from members of his family.
For information about the twinning association contact 01483 743001 or e-mail
marion.baddeley@woking.gov.uk
.
An exhibition of all the entries was held at Woking library last month.
Bron: Woking News & Mail
Amstelveenweb.com is niet verantwoordelijk voor de inhoud van de nieuwsberichten.