Baltisch programma in P60
Nieuws
->
P60
Bron: P60
01-06-2012
Out In Riga, Letland's finest in Amstelveen

Riga, niet de eerste stad, waar je aan denkt bij een artistiek verantwoorde stad. Niets is echter minder waar, want de hoofdstad van Letland is booming. De lokale scene bruist van de muziek, kunst en cultuur. Omdat het echter niet om de hoek is, komen zes uiteenlopende muzikale acts op 12 juli 2012 in P60 een avondvullend, Baltisch programma verzorgen.

Sinds de val van de Sovjet-Unie heeft Letland (net als Estland en Litouwen) zich langzaam maar zeker ontpopt tot een interessante bestemming. De havenstad Riga heeft zich na de hernieuwde onafhankelijkheid in 1991 een geheel eigen culturele identiteit weten aan te meten, wat een grote diversiteit aan muzikale genres tot gevolg had. Tijdens Out In Riga zullen zes verschillende bands hun kunsten vertonen.

Gitarist Reinis Jaunais legt met zijn experimentele jazz-rock de nadruk op de volledige beheersing van zijn instrument. Zanger Imants Daksis, bekend om zijn poëtische en filosofische teksten is een grote meneer in zijn eigen land.

Promo video van 'Out In Riga in P60 - Amstelveen'

Met een oeuvre van twaalf albums en ruim 300 nummers is de pas 25-jarige singer/songwriter een meer dan goede afgevaardigde. Indie-band Gaujarts doet het iets rustiger aan. Het vijftal bracht vorig jaar de aanstekelijke opvolger van hun debuutplaat uit 2008 uit, wat het akoestische collectief grote populariteit in eigen land opleverde.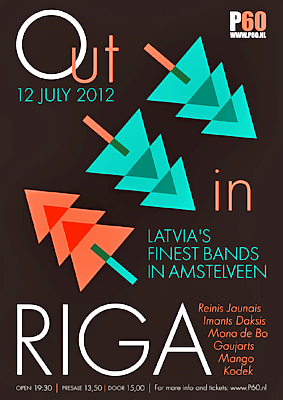 (Bron P60 - 2012)



De flyer van 'Out In Riga in P60 Amstelveen'
Wordt er dan ook nog stevige muziek gemaakt in Riga? Het antwoord op die vraag is een volmondig 'ja'. In tegenstelling tot voorgaande acts doet Mango het in het Engels. Compleet met blazers en materiaal van hun nieuwe EP komt de ska-punk-band de tent afbreken. De art-rockers van Mona de Bo zorgen voor de nodige kunstzinnige uitdaging en de electronische trots wordt hoog gehouden door Kodek, die de avond afsluit met hun lo-fi breakcore.
Onder het motto van het verbreden van de horizon organiseert P60 een avond met verrassende muziek uit Riga, met een zeer diverse vertegenwoordiging. Kaarten zijn te koop via de P60 website (
www.p60.nl
), alle Primera winkels en Ben's Corner
. (Tekst: Terry Ros)
Out In Riga, Latvia's finest in Amstelveen

Riga, not the first place that springs to mind when you think about an interesting music scene. We beg to differ. Latvia's capital is booming. The city bursts with music, art and culture. Because it's not exactly around the corner, six very diverse Latvian acts will come to P60 on June 12th, for an evening of high quality Baltic music.

Ever since the former Soviet-Union lost its grip on Latvia (as well as Estonia and Lithuania), the seaside town of Riga has blossomed. The renewed independence in 1991 incited the capital city to acquire its very own distinct identity, which resulted in a considerable diversity of musical genres. Six acts will show their skills and uniquely Latvian sound at Out In Riga.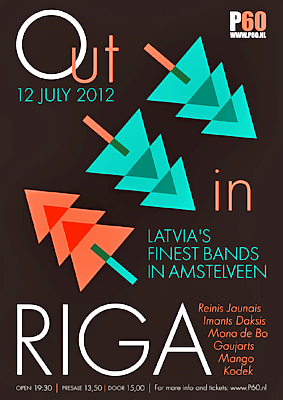 (Bron P60 - 2012)



The flyer of 'Out In Riga in P60 Amstelveen'
Guitarist Reinis Jaunais puts the emphasis on complete control over his instrument with his experimental jazz-rock fusion. Singer Imants Daksis, known and loved for his poetic and philosophic lyrics, has over the years become a big name in his country. At age 25, his catalogue already spans an impressive twelve albums and over three hundred songs. A more than excellent representative of Riga's music scene. Indie band Gaujarts have taken it slightly slower. The five-piece released their sophomore album last year. Their catchy acoustic sounds have brought them major popularity back home.
Promo video of 'Out In Riga in P60 - Amstelveen'
Does Riga also get loud, you ask? The answer is an outspoken 'yes'. Contrary to the former bands, Mango's music is entirely in English. The brass section and fresh new EP of this ska-punk outfit will get any party started. Art-rock band Mona de Bo's avant-garde repertoire guarantees the night is artistically correct and electro-duo Kodek represents the electronic scene, with their lo-fi breakcore.
In the spirit of broadening your horizon, P60 organizes an evening packed with surprising and diverse music from Riga. Ticket's are available at the P60 website (
www.p60.nl
), all Primera stores and Ben's Corner Amstelveen.
(Text: Terry Ros)
Amstelveenweb.com is niet verantwoordelijk voor de inhoud van de nieuwsberichten.